Selling your book direct to readers is a great distribution option to increase your profits. If you've ever wondered what a direct-to-reader sales page is, here are some examples of the direct-to-reader sales pages you can get through Mill City Press (with highlighed features):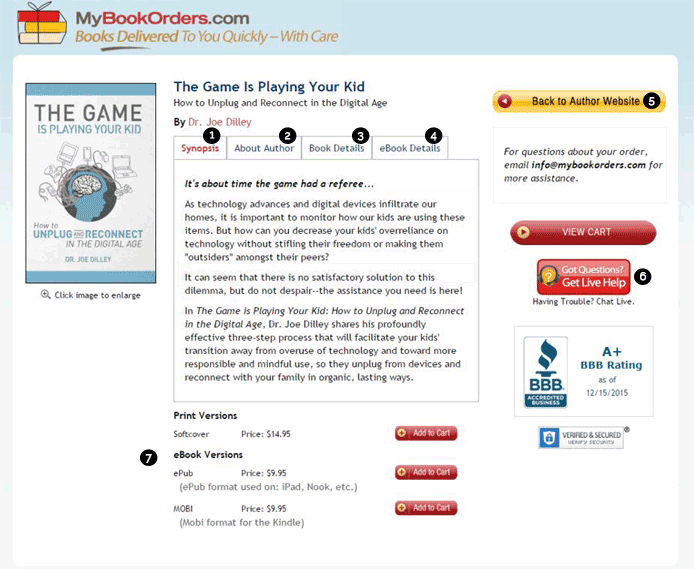 1) Synopsis Tab – The synopsis tab uses the text from your back cover, so readers can learn what your book is all about.
2) About Author – The about author tab displays the author bio used on your book.
3) Book Details – The book details tab shows the ISBN, LCCN, trim size, number of pages, publisher, and publication date for customers who want to know more about your book.
4) Ebook Details – If you have an ebook, the details tab will display the ebook formats you have, along with the publisher and publication date.
5) Back to Author Website – Because your direct-to-reader sales page is separate from your author website, the "back to author website" button allows customers to return to your website.
6) Got Questions? Get Live Help – If your customers have questions about how to order, they can click on the Live Chat button during business hours to speak to a member of our team.
7) Versions of Your Book – All versions of your book will be displayed here, along with their prices. Customers can add whichever format they would like to buy to their cart.
8) Custom Banner – For $100, you can upgrade to a branded banner for your page.
9) Special Messages – Here you can add custom messages to your customers, such as promo codes or specific ordering information (like shown in this example).