Readers like putting a face to a name, especially when it comes to authors (their version of celebrities). Unless you've created a pen name to keep your identity secret, you'll want to use an actual photo of yourself. Author photos go on the back of your book's cover next to the About the Author section, as well as on your website, social media profiles, and media kit.
Because your photo ends up so many different places, you want to make sure it's the best author photo you've got. Unfortunately, not everyone puts their best foot forward. There are a lot of mistakes you can make, but we've narrowed it down to the top four mistakes that keep author photos from being a great book marketing tool.
1. Your Author Photo Is Too Old
The general rule of thumb? Author photos shouldn't be more than five years old. Anything more might make it difficult to recognize you. If a reader were to hold up your author photo next to your face, he should know it's you.
Has your appearance drastically changed recently? Even if your author photo was taken in the last five years, if you've lost a lot of weight, gotten new glasses, or changed your hair color or facial hair, you'll want a picture that reflects the new (improved) you.
2. The Background Takes Over the Photo
You're the star of your author photo, so the background shouldn't detract from you. Taking a photo in your home, where your decorations, plants, or furniture appear in your picture, is considered distracting. People can also be distracting, so a picture of you on vacation with dozens of tourists around wouldn't work well for an author photo.
This doesn't mean you can't have fun with the background, though. We've seen great author photos with backgrounds in the woods, on a beach, or in the mountains, but the surrounding environment doesn't distract from the photo and it's appropriate for the book subject matter. It's okay to be creative, just make sure you're the focus of your picture.
3. Your Clothing Choice Is Distracting
Even though your author photo is about you, what you choose to wear affects the quality of the photo. Your book's genre should influence your clothing choice. You don't want to be too informal, especially if you have a business book, for example. If you have a fantasy or sci-fi book, what you wear can be different, but it shouldn't take the focus off you.
The wrong clothing can create other problems, too. It might be distracting, or it might date the photo—especially coupled with an outdated hair or facial hair style. You also don't want to be seen as "supporting" a brand name in an author photo.
4. The Picture Quality Is Poor
The beauty of technology today is that smartphones have great cameras. If you don't want to pay to have a studio or photographer take your picture, you can often get away with having a friend or family member take a picture for you with a high-quality camera or phone with camera. Better yet, if you know someone whose hobby is photography, get in touch with them to see if they'll help you out.
Just because you don't use a studio or professional photographer doesn't mean your photo has to look it. Make sure the picture isn't blurry or crooked, and that it's not too close or too far away.
Examples of Author Photos
Let's take a look at a couple potential author photos, using pictures our Content Manager, Amanda, has provided. The first one is our bad example.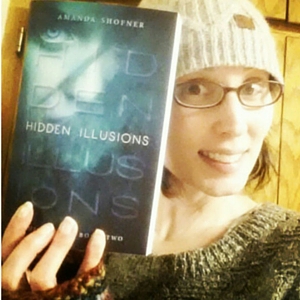 Why it's bad is pretty obvious, right? The hat obscures her face, her glasses are old, the book dates the photo and draws attention away from her, and as a selfie, it's not the best quality.
The next one is our good example.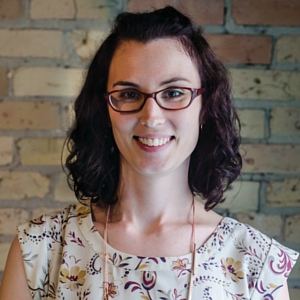 As an author who writes in the romance subgenres, Amanda's shirt fits that. The glasses are the current pair she's wearing, and the background isn't distracting.
A Note on Author Photos If You Write Under a Pen Name
What happens if you're using a pen name to keep your identity secret? Don't use an actual picture of yourself. Instead, create an avatar, or picture representation of yourself (or your pen name self). And sites like My Blue Robot lets you create your own, and cheaply too.
If you don't want to create an avatar, we'd recommend taking a photo of yourself, but with your face obscured—maybe it's just your fingers on a keyboard. Stock photos are an option, but the potential for reader confusion and anger is too high if readers see the stock photo elsewhere.